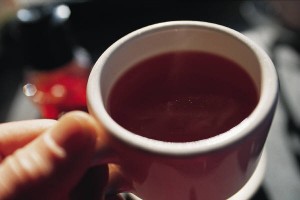 In India, chai is the word used for tea with milk in it.  Masala chai refers to tea with milk and spices.  The spices that are traditionally used in masala chai are warming and can be used to help fight off a cold, or to warm you up when you feel chilly.  They are also beneficial for digestion. 
This recipe is for an herbal masala chai.  Caffeinated tea can also be added. 
Ingredients
3 cups of hot water
1 tbsp Cinnamon sticks or pieces (not powder)
1 tbsp Cardamon seeds (cracked- you can crack with a spoon or the flat edge of a knife)
1/2 to 3/4 tbsp Ginger (fresh chopped or dried)
1/4 tsp cloves
1/4 tsp peppercorns
1 stick of Astragalus (optional)
Vanilla bean (optional)
1.5 tsp Black or green tea (optional)
Directions
Bring water to a boil.  Add all ingredients except optional black or green tea and bring down to simmer.  Simmer for 15 min.  Remove from heat.  Add optional tea and let steep for 3 minutes.  Strain.  Add honey or other sweeter and milk (or alternative milk, such as almond or soy milk) to taste.
Medicinal Properties of Herbs
Ginger: relaxes muscles of the GI tract, decreases nausea, antioxidant, antiinflammatory, warming
Cinnamon: relaxes GI tract and other smooth muscles, stimulates circulation, decreases blood sugar, warming
Cardamon: relaxes muscles of the GI tract
Clove: stimulates digestion
Astragalus: immune tonic.  May potentially be dangerous in first trimester of pregnancy
Tea: Green tea has many health benefits, including being a potent antioxidant
Note: These herbs have additional medicinal qualities that are not listed here.  This tea is generally safe for most people.  However, if you have a specific health condition, please talk to a naturopathic doctor or herbalist before using any herbs on a regular basis.