Does anyone want any summer squash? Does anyone else have this problem?  You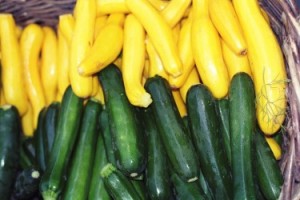 planted zucchini and now it seems to be taking over.  You are up to your ears in these vegetables, and they seem to be getting bigger by the hour!
Well, of all the problems one might face in the world, this is not such a bad one.  And it forces a bit of creativity into my normal cooking routine. I've been putting summer squash into almost everything I cook.
This morning I had a revelation about squash in eggs.  It was an experiment.  A risk on a Monday morning when there wouldn't be time to make a breakfast take two.
It was a success!  The squash gave the eggs a nice fluffy texture and a great taste.  The veggies thrown hastily on top cooked up well.  And it took only about 15 minutes to whip up .
You can skip down to the bottom for the recipe, but first I want to tell you a little about the nutritional benefits of zucchini.
Zucchini, which is probably the best known of the summer squashes, has a water content of 95%.  This makes it very low in calories (only 14 calories per 3.5 ounce serving), and an excellent diet food for those trying to loose weight.  It also contains fair amounts of potassium, carotenes and vitamin C.
In addition to these nutritional benefits, summer squash, along with many other vegetables, has been shown to be protective against the cell mutations that cause cancer.
Combined with the other veggies in this recipe, you have a delicious array of the vitamins and minerals we need to stay healthy.
Here is what I threw together:
Summer Squash Frittata
Serves 2
Ingredients:
1/4 of a medium sized red onion, chopped
1/2 jalepeno pepper (the ones we grew this year aren't that spicy, so you might need to adjust this)
1 medium sized grated summer squash
3 eggs
Salt, pepper and garlic powder to taste
1/2 cup of tomatoes, sliced (I used cherry)
3 medium kale leaves
Fresh herbs to taste (I used basil, oregano and rosemary)
High heat oil for sauteing
Saute onions and peppers over medium heat until the onions are translucent.  While you are doing this, whisk together the grated squash, eggs, salt, pepper and garlic powder.  Once the onions are ready, pour the egg and zucchini mixture over the onions.      Put a lid on it and let sit until the bottom is lightly browned, and the frittata can be easily flipped.
Flip the frittata* and add the kale, herbs and sliced tomatoes.  Cover and let sit for a few more minutes until the kale is wilted and bright green.
Serve and enjoy!
*Note: I didn't execute the flipping part with the utmost grace, and mine flipped in a few different pieces.  It was still delicious, and with the veggies on top still looked good too.  
Source: The Encyclopedia of Healing foods by Michael Murray, ND
Photo courtesy of www.babyfood101.com