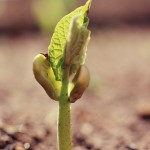 I know that it is not spring yet. I can see the dusting of snow on my car, and feel the chill as the wind dips the temperature into the teens. Yes, it is February and it is clearly still winter. And yet, I am starting to feel Spring in my body. It is a subtle, but persistent feeling. It always starts around this time of year, as the snow melts quicker and the days get longer. Deep under the snow, the seeds that have lay dormant all winter are getting ready to sprout, and I can feel my body and my spirit waking up. Winter is a time to rest and to dream. It is a time to nourish ourselves in the way we only can in the deep quiet and stillness that winter affords. And after the rest of winter, comes the movement of spring. Spring is the time to take those first tentative steps towards actualizing those dreams that we have been dreaming all winter.
Inside me I am feeling the stirrings of action in both my body and my mind. I am also gearing up for a Spring detox. Spring is the perfect time of year to nourish ourselves in this way. Please click here to read an article I posted in 2011 about how to do a simple at home Spring detox. 
I have some exciting offerings this Spring that I'd like to share with you. Please click on the links for more details.
Growing Toward the Light: A Day of Self Care. Co-taught with Leslie Cerier & Nini Melivin. This is a full day workshop that includes a hands on cooking class, instruction on using food as medicine, and movement therapy and self shiatsu. Early registration deadline is March 2nd, and the class will take place on April 21st.
Guided Detox Program. Co-taught with Dr. Anna Abele. This is a six week program that includes weekly group meetings, as well as a one on one consult with myself or Dr. Abele. Please click here to contact me for more information.